Flu season is in full-swing. It is during this time of the year when germ-deterrence is most important. Protecting yourself from airborne bacteria and germs should be a constant objective for you though. Protecting yourself from germs is easy! Follow this guide and you'll be much less likely to call in to work sick this season!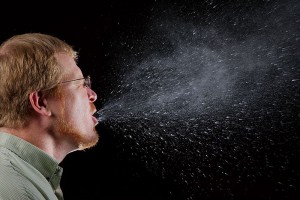 No matter where you are, you should be aware of how easy it is for germs to penetrate your body's vulnerable points. Your hands can quickly turncoat on you if you don't keep them clean and free of germs. Keeping a pocket-sized bottle of hand sanitizer or sanitation wipes is a terrific defense against all the germ-rich surfaces you may come into contact with during the day. Think of all the doorknobs, counters, keyboards, pencils and pens your hands come into contact with during the day. Also, be conscious of any tendencies you have to stick your fingers (or any foreign objects such as pens) in or around your mouth. Your mouth, ears, nose, and eyes are ideal entryways for germs and bacteria, so be mindful of this. Avoid contact with iffy surfaces all together if you can. Use your sleeve or a handkerchief when opening doors and community cabinets/drawers. If you have to use a public restroom, flush with your foot instead of your hand… and be sure to flee as quickly as possible after flushing as germs go airborne with every flush. Even though you can't see them, germs can flourish almost anywhere!
Hygiene is a crucial factor in avoiding germs. Furthermore, if you spend the majority of your time at home, you should be especially germ-conscious there. You should regularly wash your hands, along with everything else that may be inviting to germs. Clothing, bed linens, and furniture should be cleaned regularly. You should also keep your carpets free of germs by vacuuming often. Surfaces, utensils, dishes and other items in your kitchen should also be kept clean and sterile. Be sure to keep the air circulation constantly moving in your home too, stale air is not your friend.
You can also prevent germs from wreaking havoc on your body by watching what you eat (and washing what you eat!). Vitamin rich fruits and vegetables boost your body's natural ability to fight disease and bacteria. An apple a day really does keep the doctor away, as do oranges, pears, and many other tasty fruits. Remember that such produce is likely to contain trace amounts of pesticides so rinse your fruits and veggies. Stay hydrated as well by drinking plenty of water every day.
Your local San Antonio movers are doing their part to keep germ dangers under control. Our movers always where a clean moving uniform, and wear gloves and other protective clothing every time we move you to your new home. Our moving trucks are regularly sanitized to keep your property safe while in transit. Your local movers also provide free and clean quilt pad wraps for your furniture. Nobody likes being sick, so keep germs at bay this season so you can enjoy the holidays, and enjoy your moving day too!

This entry was posted in